Bandy Hicks
Chief Operating Officer, Resort for Pets
---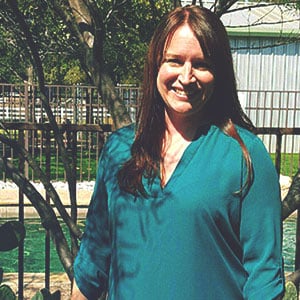 I have been managing the Resort for Pets since March of 2010 and it has been an ever growing adventure! I have worked with animals since 2003, with most of my early time spent working in zoos. I started my animal care career as keeper at a big cat sanctuary, then moved to the zoo working with lions, tigers, and bears (oh my!), as well as smaller farm animals. While working with your pets at the Resort is much different than working with large carnivores, I feel that my experience helps me be able to handle any situation that may be thrown at us.
My favorite part of my job here at the Resort is getting to know the personality of each guest that stays here. This helps the animals to feel right at home while staying with us and becoming a part of our family. I truly love the team of people that I work with; they all love animals and we pitch in to make sure our guests are comfortable, safe and loved the whole time they are here. A typical day for me might include chatting with clients and their pets in the lobby, training new staff, bathing dogs, marketing and advertising, and redesigning parts of our Resort to keep up with the ever changing industry. I have a degree in Zoology, as well as Health Information Technology. I enjoy pairing the two together to increase the business and learning new things. I have a passion for my job and I can say I love coming to work every day!
I have 2 wonderful sons. My youngest son cuddles every night with our Pug, Sam Wise. They are the best of buds. When I'm not working, I enjoy spending time with my sons and their Boy Scout Troop.
If you haven't brought your pet to stay with us yet, please bring them by… I'd love to meet them!