Laura
Technician
---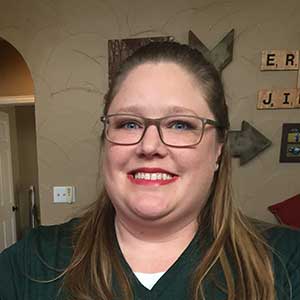 Date you joined the team

January 2015

Your inspiration

My mom and dad. Although some of my ideas were a little crazy over the years, my parents always stood behind me and cheered me on.

What is your background in pet care services?

I worked full time in retail management and customer service for the last 15 years. I decided to go to Weatherford College in 2008 and received my Certificate in Veterinary Assisting and Associates in Arts degree in 2010. It wasn't until 5 years later that I was lucky enough to join the BCRAH team and I have been living the dream ever since. I always tell people "never give up!"

What is your favorite thing about working here?

I enjoy the learning, the experiences, and helping all creatures large and small. I also enjoy working with some of the most awesome individuals on earth and sharing the same passion.

Who are your pets?

Chuy, a 17-year-old chaweenie; Mazzy, a 12-year-old pit/shepherd mix; Gracie,a 10-year-old Red Heeler mix; Lo'Redda, a 3-year-old Red Heeler/Corgi mix; Ebonyzer, a 13-year-old Longhair black kitty; and Sabbath, a 1-year-old shorthair black kitty. They are all my favorite.