Lily
Technician
---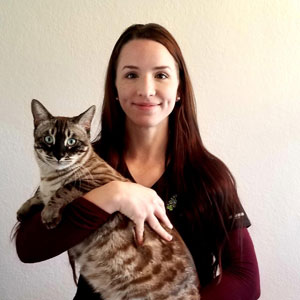 Date you joined the team

February 2014

Hobbies

When I'm not working, I enjoy going to the gym, baking, traveling, going for hikes and spending time with friends and family, including all of my pups!

What is your background in pet care services?

I've always had pets, and, up until the age of 16, I was raised on a farm in South Dakota where we had animals of all sorts!

What is your favorite thing about working here?

I love being able to help animals - from nail trims to life-saving emergencies, I feel like I do meaningful work every day.

Who are your pets?

I have 3 dogs: a Yellow Labrador Retriever named Jojo, a Black Lab/Corgi mix named Frannie, and the newest addition is a Harlequin Great Dane named Apollo.