Dr. Madeline Wiersig
Associate Veterinarian
---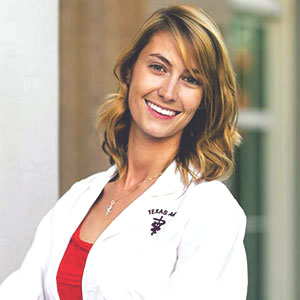 Dr. Wiersig was born and raised in the culturally diverse city of San Antonio attributing to her love of sunshine and Mexican food. Dr. Wiersig grew up heavily influenced by medicine with her father being a human radiology physician and her grandfather being a revered veterinarian and professor at Texas A&M's College of Veterinary Medicine. Following in her grandfather's footsteps, she graduated from Texas A&M with her doctorate of veterinary medicine and studied Animal Science in her undergraduate studies.
Dr. Wiersig has a strong professional interest in the human-animal bond and believes that client communication and education are imperative to both the health of her patients as well as strengthening the bond between owners and pets. Dr. Wiersig also has special interests in emergency medicine, soft tissue surgery, and last but certainly not least, all shapes and sizes of schnauzers!
When she is not caring for her clients and patients, she is likely spending time with her best friend and husband, who is also a small animal veterinarian. The pair adore their beloved rescue pointer mix, Mulan, and miniature schnauzer, Roxy. Dr. Wiersig and her husband love adrenaline activities including rock climbing, hiking, running, biking and SCUBA diving.